Welcome home to Preferred Properties Realty! Thank you for taking your time to learn more about us. It is our pleasure!
We are a small group of energetic and team oriented agents that support one another. We have agents with decades of experience, newly licensed agents with a fresh outlook on the business and a few in between. Our management make up differs from other offices as it is a group of four that each bring something to the table that blends in harmony. Joan Comer, co-owner, brings her strong business back ground to guide the company successfully through the financial aspect of budgeting and growth. Jim Wojceichowski, co-owner, has years of experience in the mortgage industry and real estate investment not to mention a master's degree from Boston University. Ella Morawiak-Paczuska, broker, is focused on managing compliance, assists with conflicts if they arise and speaks 5 languages. Colleen Walo, team leader/office manager, handles the daily office business including training, transaction processing, event planning, marketing and more. She is the first point of contact to assist the team in their needs.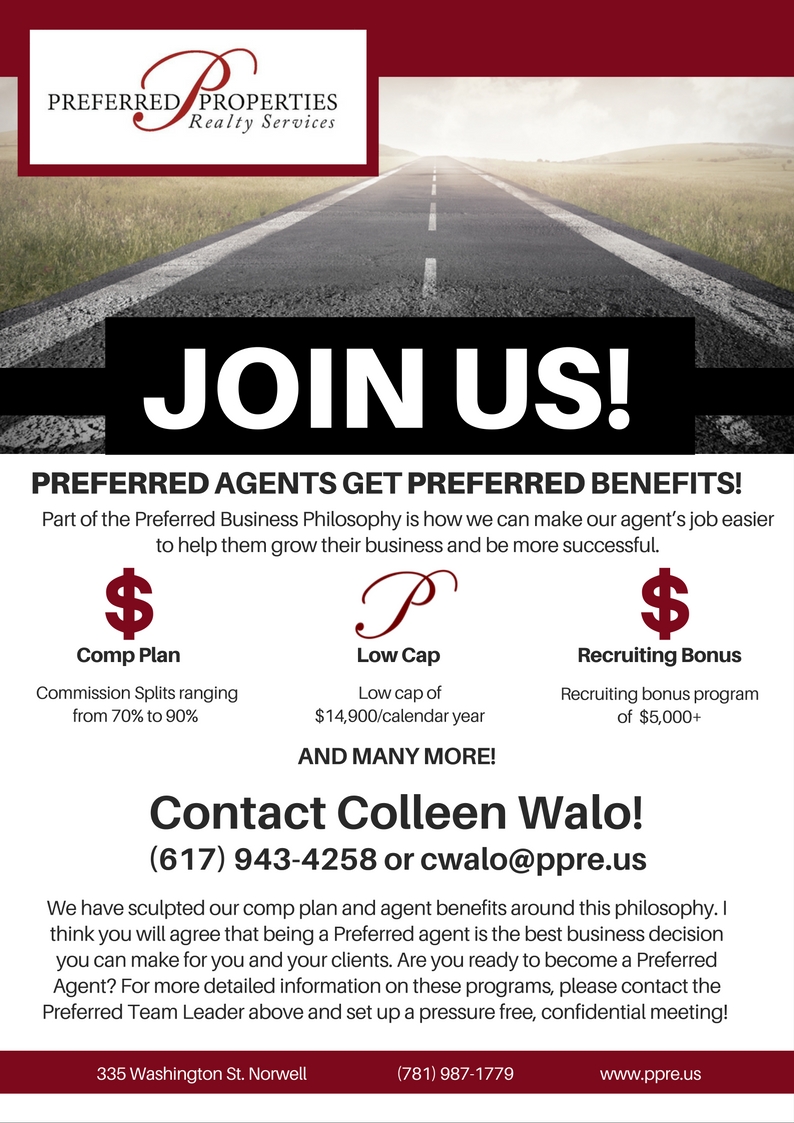 PREFERRED AGENTS GET PREFERRED BENEFITS!
Part of the Preferred Business Philosophy is how we can make our agent's job easier to help them grow their business and be more successful. We have sculpted our comp plan and agent benefits around this philosophy. I think you will agree that being a Preferred agent is the best business decision you can make for you and your clients.
Amazing compensation program with splits ranging from 70% to 90%
Low cap of $14,900/calendar year
Recruiting bonus program – $5,000+
Company provides business cards, sign riders, name tags, stationary and more!
Paid E & O insurance & enhanced realtor.com
And so much MORE!
We hope you will consider becoming part of this dynamic, energetic and amazing group of agents that we call family! If you have any questions please call/text/email Colleen Walo at 617-943-4258 or cwalo@ppre.us.
Thank you again for your time and interest!